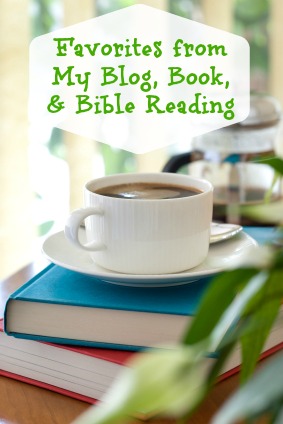 From Blogs:
I've been experimenting with Asian salad recipes. This is the next one I'm going to try: Copycat Oriental Salad via lil' luna.
Be leery of any ministry position that is comfortable. To the best of my knowledge, Elisabeth's ministry rarely could have been described as "comfortable." The resulting depth of ministry, perspective, and wisdom would not have come from a position that allowed serving through autopilot or when insulated from reality.
From Books:
My books stack is getting taller instead of smaller because all of my library requests came in at the same time! I'm working through Between You & Me, Throne of Glass, In the Unlikely Event, A Meal with Jesus, and Simply Tuesday.
When someone is difficult, disappointing, or disrespectful, your reaction reveals you own heart. If you react with anger or bitterness, then your "need" for control or respect or success is exposed. If you're trusting God's sovereignty rather than your own abilities, and if you're concerned for God's glory rather than your own reputation, then it will be a different story. —A Meal with Jesus: Discovering Grace, Community, and Mission around the Table by Tim Chester
From the Bible:
A verse I'm praying for our new church. If you'd like to sign up for our prayer emails, please click over to Journey's site!
Let the favor of the Lord our God be upon us,
    and establish the work of our hands upon us;
    yes, establish the work of our hands! -Psalm 90:17
Around the House:
David and Lee had our church's sports camp outreach in the mornings this week. James and I had lots of fun time together. It sure is quiet when it's just the two of us! On Wednesday, David asked for the day off, so we had a back-to-normal day. We went to our usual hiking place and the boys took a break on the exercise equipment. David said he wanted to tell James all his problems. Big problem #1) he has no money, #2) he's forgetful. They are such sweet boys. James heads to ESY next week so our Pennsylvania summer break is essentially over! He'll go through July, until we move.