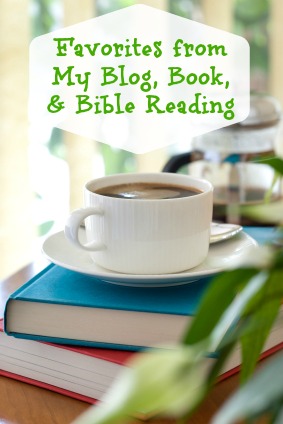 From Blogs:
We need faith. Faith that when doctors, therapists, teachers, and even friends and family members fail us, He never will.

Faith that His purpose and will for our lives and the lives of our children will be fulfilled.
From Books:
I'm reading the Throne of Glass series and got stuck in book three this week, not sure if I wanted to keep reading. The main character is less sympathetic in this one and I'm not sure if I can stick with her until she finds herself again. Plus, there are three story lines happening in three different locations. Plus, it's a five book series. Not sure I want to read two more books after this one. Lee finished A Meal with Jesus and liked it, so I'm excited to get back to it.
From the Bible:
Hebrews is my favorite epistle. I love the ideas in these verses of "things that belong to salvation" and the encouragement not to be sluggish.
Though we speak in this way, yet in your case, beloved, we feel sure of better things—things that belong to salvation. For God is not unjust so as to overlook your work and the love that you have shown for his name in serving the saints, as you still do. And we desire each one of you to show the same earnestness to have the full assurance of hope until the end, so that you may not be sluggish, but imitators of those who through faith and patience inherit the promises. 6:9-12
Around the House:
We are moving three weeks from today and we don't have a place to live yet! That's one of the prayer requests we updated on the Journey site this week.
James got to go back to school, and even though it's a different school that normal with a different team, he's loving it. And he rode the bus! I had to call and them them he would need a seat belt guard, but once they understood that, I felt better about him riding along.
We also tried a new activity this week—roller skating! It took us a long time to get around the rink, but we had fun. James especially enjoyed the lights, music, and people watching.