2016 didn't get off to a great start for me. After having what was probably the flu in December, I never could get rid of the fever I had. Every day for a month it was over 100. This week I went to the doctor (I had to find a new doctor!) and he said it's probably a wicked sinus infection. I'm on the road to recovery now!
We were so sad to hear of the passing of Alan Rickman this week. On Thursday David and I watched Galaxy Quest in his honor. In addition to playing Professor Snape, he was also so good in Robin Hood Prince of Thieves and as the voice of the caterpillar in Alice in Wonderland. We'll get to hear his voice again when Alice through the Looking Glass comes out in April.
Since I was feeling better this week than I had in a while, we got out of the house more! David and I had gift cards burning a hole in our pockets, so we did lunch at Pei Wei (his first time) and spent time walking around Barnes and Noble. (We went in for books and came out with Voldermort's wand. Lee was not surprised.) We also went to the park with friends, where James found a puddle.
Here's what I've been reading this week!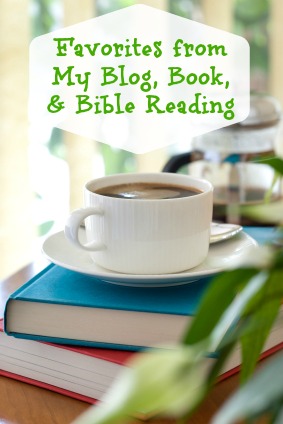 From blogs:
I want to say this as clearly as I know how: If you neglect to train your children in their use of the Internet, you are failing in your parental responsibility. If you neglect to monitor what your children are doing online, you are neglecting your duty. If you are going to allow them to use the Internet—and I think you should so they can learn to use it under your care—you absolutely need to train them to use it well. To train them well you simply need to engage them in the tech talk.
I found that I am just like the Pharisees. I spent a large part of my life looking inward for righteousness and feeling fairly confident I could find it there. My sin was not one that others could see because it hid behind a cloud of spiritual disciplines. But learning that I most identified with the group of people who sought to kill Jesus is pretty humbling.
From books:
This week I've been listening to the audio version of Mocking Jay and reading Money Making Mom. (affiliate links)
From my Bible:
I'm working through the Bible in a year using the Eat this Book plan on YouVersion. I'm in Genesis and reading a Psalm a day.
But I have trusted in your steadfast love;
my heart shall rejoice in your salvation. Psalm 13:5