James developed typically until around his second birthday. He made good eye contact, interacted with his brother and others, and had the language skills typical of other two-year-olds.
But after his second birthday, we noticed some changes in him. We were most concerned that he didn't talk much. He even seemed to be losing some language skills. James had stopped reacting when Lee got home from work. Previously he would walk to Lee and greet him, but now he didn't even turn his head or acknowledge someone new was in the room. When my parents came for a visit the month before James turned three, my mom mentioned that James didn't look her in the eyes. He didn't play with other kids at church.
I thought these "symptoms" were just characteristics. I read a book about strong-willed children (the same one my mom had read when I was about James's age!) and thought James fit the description.
I talked to friends who had boys around the same ages as my boys.
"James doesn't talk much. Does your younger son talk as much as your oldest did at his age?"
Oh, no they assured me. Younger siblings don't talk as much or as quickly as their older siblings. That's normal. When I said my boys didn't play together much, they said it must be nice that they didn't fight. So I continued waiting for James's speech and development to catch-up with his peers. But as we approached his third birthday, there were signs I couldn't ignore any longer.
Deciding Something Might Be Wrong
I started writing a family blog one month after James was born. The blog was an easy way to keep our family and friends who lived far-away informed of everything happening in our lives as the boys grew. My favorite posts are the ones I write on the boys' birthdays each year. I talk about their favorite things, their routines, and their recent milestones. When James turned three, I wrote a poem to celebrate him:
"We love that you hear us eating chips from far away,
We love that you don't have a lot to say.
We love to read your favorite hungry caterpillar book,
We love how you crawl through our legs when we cook."
As I was writing, I clicked on the previous year's post from his second birthday. I realized not much had changed for him in the last year. In fact, there were some things he could do a year earlier that he couldn't do anymore. He didn't tell us his favorite color was "chartreuse." In fact, he couldn't name any of his colors.
Maybe he wasn't just quiet, independent, and stubborn. Maybe there was something else.
Three-Year Well-Visit
When I took James to his three-year well-visit on September 13, 2010, I decided to be completely honest with his pediatrician. I was going to tell her what he could and couldn't do. I wasn't going to make excuses.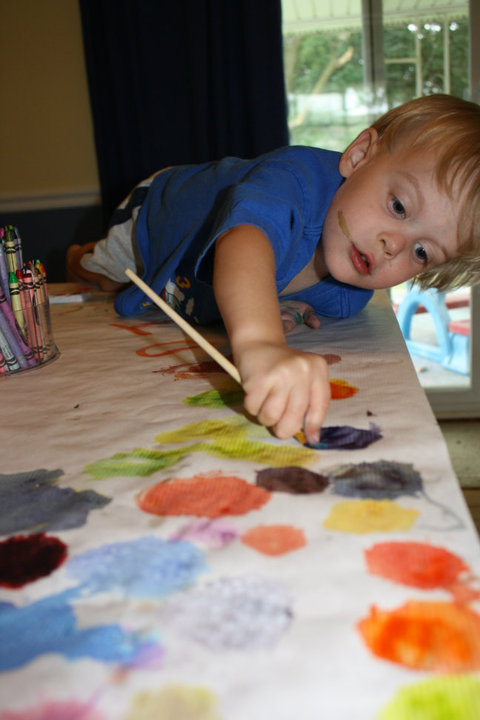 When we got in the exam room and she came in, I started talking, "He doesn't talk, but he used to. He doesn't play with other kids. He doesn't react when his dad gets home. Sometimes, even though he's in the room, it's like he's not really with us." She listened and nodded, making notes in his chart.
She asked him to draw a circle. He couldn't. He couldn't even hold the crayon correctly. She asked him if he was a boy or a girl. He said nothing. She asked me if he could dress himself. He couldn't, but he did love to undress himself. She asked a few more questions I don't remember because I was thinking, "something is really wrong."
At the end of our visit, she said she did believe there could be some kind of developmental delay. She gave me the number for the local school system that could evaluate him. I tucked the number away. Still convinced James would catch up to his peers in time, I decided I'd watch him for a while and see what I thought before calling anyone for an evaluation.
Diagnosis Day
"James, do your best worst!" Lee said to him on November 16, 2010 as we drove to the elementary school for James's evaluation. We had prayed that James would just be himself. We wanted his strengths and weaknesses to be clear to the team evaluating him.
We were met in the office and taken to a room where three women who worked for the school system waited—a speech therapist, an occupational therapist, and a psychologist. The therapists immediately got James busy doing puzzles, shooting a ball through a hoop, identifying colors and shapes, and bouncing on a big ball. He received lots of verbal praise and encouragement and seemed to enjoy the attention and activities.
The psychologist sat with Lee and me, asking questions and taking notes. We talked about James's development (When did he take his first step? When did he say his first word?). We talked about the skills he seemed to have lost (not knowing colors anymore and not greeting Lee when he got home from work). We told her what we had read and what we had learned from Nicole, James's occupational therapist.
After an hour of testing James and talking to us, the team left the room to discuss their observations. They seemed to be gone for a long time but that was probably because we were so busy chasing James around the room—the room that not only contained all the toys and tools for evaluating children, but also held cubicles, desks, and working people. James met them all in his laps around the room.
When they did return, the occupational therapist went back to playing with James so we could talk to the psychologist and speech therapist without distractions. James built a track with pieces he found and had put on the floor to play with the trains. Well, we thought he was playing with the trains, but as the psychologist pointed out, he really was watching the wheels—another trait of autism.
The psychologist talked first about James's strengths: how cute he was, how much fun they had with him, how easy going and independent he seemed to be. He was able to shoot a ball in the little basketball goal and was easy to motivate with tickling or food treats. He could also name all the letters he saw on a bulletin board. Then she talked about his weakness. He couldn't use a spoon correctly. He couldn't name the basic colors or match basic shapes. He did do better when he was stimulated (like after bouncing on a big yoga ball), but even then he was far behind the abilities of typical kids his age.
The psychologist looked nervously at the speech therapist to her left and then back at us. "This is the hard part," she said. "Based on his testing today and our observations, we believe James has autism." I immediately relaxed, feeling like a weight had been lifted. We had a diagnosis; now we could make a plan. I assured them we were fine with the "bad news." I told them I had read enough to expect what we were dealing with.
I asked, "What do we do now?" and they handed me a binder from the local autism support group. They said, "It will take up to six weeks for us to finalize the paper work for this evaluation, then another six weeks before he's placed in a developmental preschool class."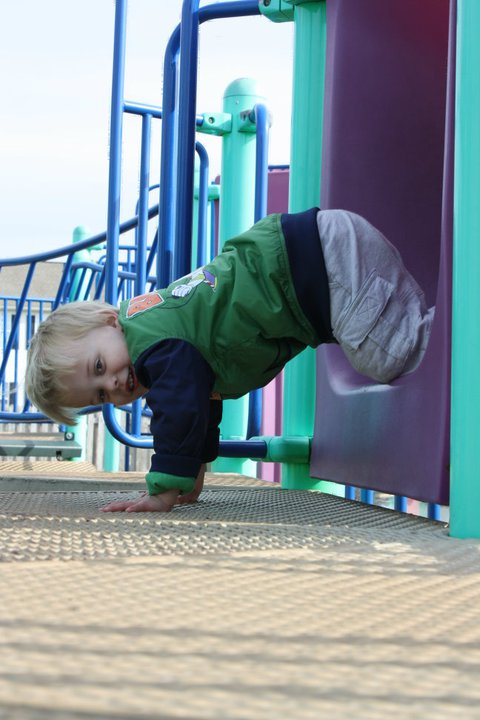 We made more small talk and even laughed; I think they were relieved we didn't break down in tears or lash out in anger like most parents they see. (I didn't realize at the time that Lee did want to break down in tears and lash out.) As they continued to watch James, who was watching the train wheels, they said he would be a lot of fun to work with and they were sure he would make progress in his class.
We said good-bye and drove away. When it was just us, we were able to let the news sink-in. The moments after you get life-changing news are, well, life-changing. People in the cars around you are driving to get lunch or going to a dentist appointment. They have no idea that it feels like your world has stopped spinning. How can these people go on like this is just a normal day? Don't they know your son is sitting in the back seat, who an hour ago was just your son but is now your autistic son? If you have driven away from the cemetery after burying a friend or family member you understand. Those who have left the doctor's office after not hearing the heart beat of the baby you carry inside can empathize. Your life stops and no one around you seems to even notice.
As we drove, Lee cried. "They only saw him for an hour. Are they sure? Can we get another opinion?" But for me, they had been our fourth opinion. Our first opinion was our intuition that something was wrong. The second opinion was from Nicole, our friend who was an occupational therapist. The third opinion came from the books on autism I read that described James perfectly. The evaluation that day was the final confirmation of what I already knew.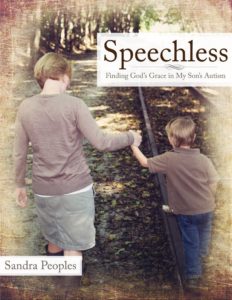 To read more about those early days after James's diagnosis, check out my book, Speechless: Finding God's Grace in My Son's Autism.