We're halfway through 2020, and it's the perfect time to reflect on the first six months of this podcast and share what's coming in the next six months! In this episode I share the top 5 downloaded episodes, my 4 favorites that didn't make the top downloaded list, the guests I have scheduled in the coming months, and big new about my newest product—the Abiding Caregiver Planner! If you're a long time listener, you'll enjoy revisiting some of your favorite topics. If you're a first time listener, this is a great episode to listen to to learn more about the weekly content. You'll also hear about this week's sponsor, The Business to Ministry Guide. Listen all the way to the end of the episode to learn how to get over $50 off this helpful resource.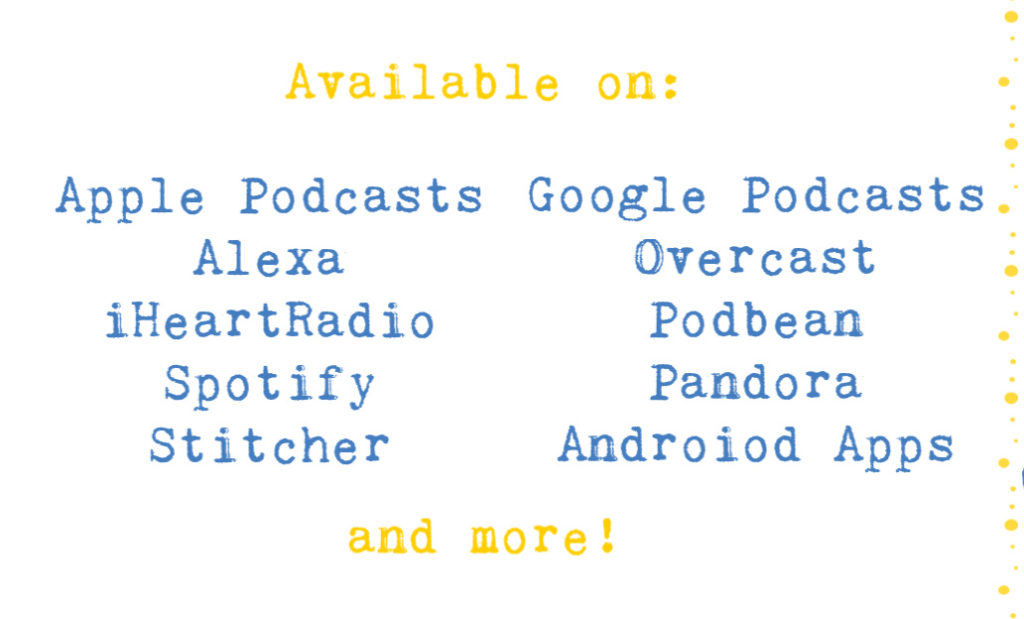 Quick Links:

Transcript:
July 13 – Episode 31 Reflecting on the First 6 Months of Episodes
Hi friends! This is Self-Care and Soul Care for the Caregiver, and I'm your host, Sandra Peoples. You're listening to episode 31! We're halfway through 2020, and I thought it would be fun to look back on the first 6 months of this podcast. I'll share the process for picking topics, which episodes have the most downloads, and I'll share what I have planned in the next six months for our community of Abiding Caregivers!
Let me tell you first about this week's sponsor: it's The Ministry to Business Guide, a resource I wish I had when I started blogging ten years ago. I get emails all the time from special-needs moms who are talented writers, gifted speakers, and social media pros who want to turn those skills into a way to earn income and provide for their families, and this resource will help you do just that. I'll tell you more about it at the end of the episode, including how you can get over $50 off this resource!
Let's dive in now to talk about how the first six months of Self Care and Soul Care for the Caregiver have gone! Let's start by talking about why I started the podcast and decided on the topic.
If you've read my book Unexpected Blessings or read on my website about the 5 phases special-needs parents experience, you know that stage 2 is "recover and rebuild rhythms." My goal is to create resources for parents in all five stages, and a podcast seemed like the best format to reach those in stage 2 and those who want to keep getting better at caring for themselves, their families, and their homes. So we launched last December as a resource to go along with my Facebook group focused on self-care for special-needs moms that started in August of 2015. Wow, I didn't realize I've had that group for so long! We've been through a lot together!
I've enjoyed podcasting even more than I thought I would! It takes more time than writing out a blog post on the same topic, but it feels more intimate! We get to know each other better when we can hear voices. Each month we gain new listeners, and that's thanks to those of you who rate the podcast, leave a review, or tell a friend about it. Thank you for all the ways you're supporting me and spreading the message!
Now let's talk about how I pick the topics: When I decided to do the podcast, I wrote out a list of over 60 episode ideas. Mostly to prove to myself that there is lots to talk about on the topics of self-care and soul care. And for our first 30 episodes, about half of those came from that list. I still have it on my desk when I get stuck. The rest of the topic ideas have come from books I've read, things I talk about with my therapists and the coaching clients I work with through my Patreon page, or conversations with Lee or friends. The feedback I get on Instagram and from our Abiding Caregiver group is also a big help in knowing which topics resonate with you all.
I thought it would be fun to talk about which episodes have the most listens. Your favorites are some of my favorites too!
006: How Decision Fatigue Leads to Caregiver Burnout and How to Eliminate It This was one of the first episodes and really set a foundation for our vision. I think it's popular because caregivers know it's so true—decision fatigue is real for sure. Other episodes have talked even more about how to eliminate decision fatigue, like our episodes on menu planning and having a Monday uniform.
026: The Decision Fatigue We'll Face as We Adjust to Life after the Pandemic Having this at the top of this list makes sense since we're all feeling this stress right now! In fact, because our area opened up and then closed back down again, I'm still feeling the extra decision fatigue this season is bringing. I'm also hearing from you all that making a decision about the new school year is bringing lots of stress. I have an episode planned in a couple weeks for us to talk through that decision!
009: The Division of Labor at Our House (with guest Lee Peoples) In this episode we talked about who does what at our house. It's so fun that you guys liked this one as much as we liked doing it for you! In fact, I think each month that as 5 Mondays, I'll try to have Lee on as a guest again. That means in 2020 you'll get to hear from him in August and November.
027: Self-Care for Peacemakers This episode hit on the topics of racism and advocacy. I'm so thankful it made the top 5 list because I know I lost a few listeners and email subscribers after this episode. But for those of us trying to do the hard work of peace making and advocacy, it was encouraging.
005: Creating a Personal Purpose Statement  This one was also early on, way back in January when we didn't know what this year would look like. But the steps we went through in this episode to help us find our purpose and live that out are good for every season!
Those 5 episodes were your favorites, based on the download numbers. But there are a few that are my favorites that I'd love to mention in this recap episode:
022: Writing New Stories for Ourselves  – This one was definitely inspired by conversations with my therapist. Thinking about stories I've believed about myself with the goal of deciding if they still serve me was really helpful. I still think about this episode when I fall back into patterns that aren't serving me anymore.
010: Setting a Feeling-Based Goal for Your Marriage – This was such a fun episode because I made decisions based specifically on this idea. In fact, I'm still doing it! We planned a little vacation for this summer and for each decision related to the vacation I asked myself what would bring Lee and me the most joy! So he and I are going down to the beach by ourselves for a couple days and then the boys are joining us. Time by ourselves and with the boys?! Sounds like fun to me!
016: How to Reset a Bad Day and Recover after a Meltdown – The info in this one about how to reset ourselves after our kids/teens have a meltdown is something I refer to often. I even did it the other night because James had a little meltdown when we were all in bed, and I had to calm down my body before I could fall asleep. If you're having a bad day or have a kid prone to meltdowns, this is a great one to revisit.
020: Self-Care During Your Cycle I'm all for giving yourself extra grace when you really need it, and as women, there are times we really need it based on the hormones in our bodies. Doing research for this episode was helpful, and I'm thankful for what I learned and was able to share!
Now that we've talked about my favorites from the past, 6 months, let's talk about what's coming for the rest of 2020!
I'm super excited about this first announcement: Soon I'll be launching the Abiding Caregiver Planner. It will have everything you need to help you care for yourself, your family, and your home. My Patreon community will get early access to these printables by the end of this month and the entire planner will be available to everyone in January. If you want to be one of the first to get the planner pages to help organize your family and home, head over to patreon.com/sandrapeoples and sign up to become a patron. You can also find the link in the shownotes at sandrapeoples.com/thepodcast
I also have our guest episodes planned for the next few months. Next week you'll hear from my friend Tonya Nash. She and I will talk about caregiving for multiple children with special needs. In August, Gillian Marchenko and I will talk about mental health. We'll share our struggles and hopefully encourage you to find help if you need it like we do. In September my friend Jolene Philo will be on to talk about the 5 loves languages for special-needs families. Her book, written along with Gary Champman, is such an important read for families like ours. I'm thankful for the chance to share the wisdom of these friends with you!
Thank you for reviewing 2020 so far with me! Yesterday at church my husband compared this moment to half time of a big game. It's time to make adjustments that will help us live out the next six months. We don't want to grow weary in doing good. But as I shared in my Abiding Caregiver Facebook group, 1 Thess. 5:24 says, "He who called you is faithful." He will be faithful as you live out your calling as an abiding caregiver. As we abide in Christ, we produce the fruit of the Holy Spirit. Let's pray as we wrap up our time together:
God, we thank You for Your faithfulness to us in the first half of 2020. As hard as it has felt at times, we know You are working all things out for Your glory and our good. As we look forward to the coming months and all they will bring, we ask for your peace to rule in our hearts. We can look back at your faithfulness in 2020 and in the previous years. We know You won't leave us without hope. It's in Jesus' name we pray, amen!
Now, more about our sponsor, the Ministry to Business Guide. As caregivers, we need flexible hours, creative opportunities, and a variety of income streams to help cover therapies, supplements/meds, and modifications to our homes that our children need. I wish I could hold your hand through all the steps it takes to get you where you want to be—to help you use all your God-given gifts and talents to glorify Him and bless your families. But I think I've found something even better than just getting my help. I'm very excited to recommend this resource to those of you who want to expand what you do and make money from your writing, speaking, podcasts, or videos.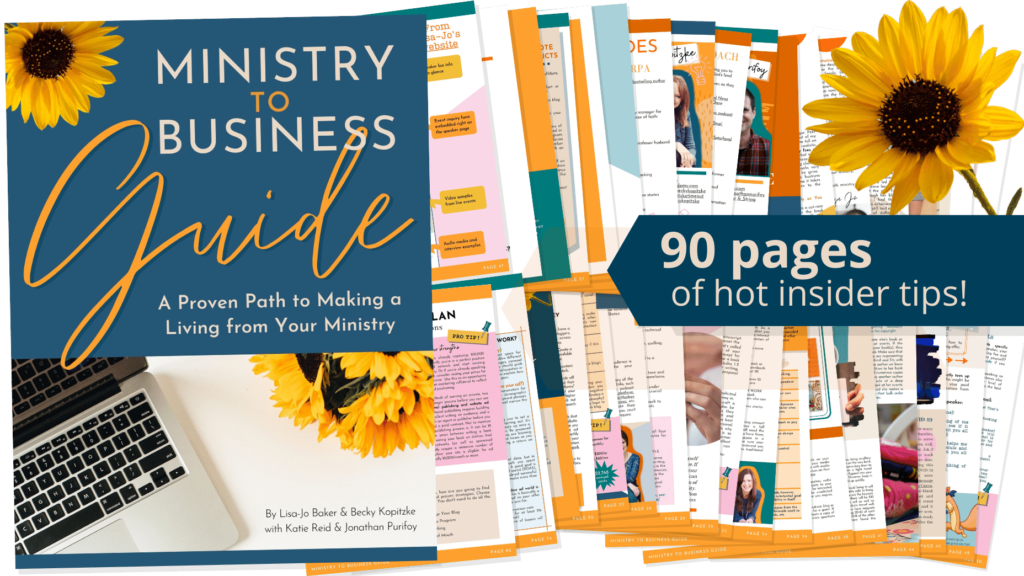 For just $29, you'll get access 20 easy-to-follow units including an inside look at book publishing, podcasts dos and don'ts, secrets to earning money from other people's products, how to take your speaking to the next level, and so much more!
The Ministry to Business Guide covers:
Blogging
Affiliate Income
Freelance Writing
Books: Traditional Publishing
Books: Self-Publishing
Book Marketing
Speaking
Coaching
Podcasting
YouTube
Graphic Design
Online Course Creation
Sales Funnels
Online Advertising
Managing Your Money
How to Make Your First $1K
If you're interested, be sure to head to sandrapeoples.com/thepodcast for the show notes on this episode and a link to get all this for just $29.
Thank you again for spending this time with me today! I'll be praying for you this week, as we live out the lessons God is teaching each one of us during this time. Remember, apart from Christ we can do nothing, but with Him, we have everything we need as we live out our calling as abiding caregivers.