Friendship can be tough, especially for special-needs moms who have to prioritize their children over friends so often. Sarah tells us how important it is to find friends who can empathize with our situation in life.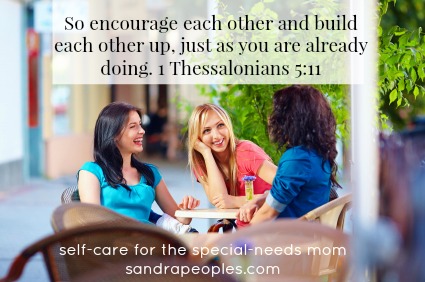 I'm so thankful Sarah Broady agreed to let me share her words on friendship with you. She originally wrote them for an e-book we did together,  30 Prayers for Special-Needs Parents. Connect with her on Facebook, Twitter, and Instagram.
Finally, after spending three years only ever able to talk on the phone, we got to meet. Liz lived in Florida and I lived in Maryland. The first time I called after getting her number from my pastor who knew her, it was as if I had known her forever. I cried over the phone to a stranger, who was an instant friend simply because of the bond we shared as special-needs parents. I didn't have to explain all the intricacies of my emotional melt-down. She knew. When I would start to describe Sam's behavior that was hard to put into words, Liz said, "Sarah, I get it. My kid does that too." There are a few different types of phone calls we have.
Urgent: "Help me, I don't know what to do!" (she was also a BCBA)
Angry: "I hate autism/I'm losing my mind"
Depressed: "I can't do this anymore"
Normal: "I'm actually only calling to say 'Hi.'"
When Sam was diagnosed, I had no special-needs mom friends. We moved a year after diagnosis where I still had no close, strong special-needs mom friends. I prayed for seven years for a close friend who was a special-needs mom. Someone I could see often, maybe at church, or over a caramel macchiato on a regular basis. A friend who's kid could script Star Wars with mine while we chatted. A mom who could look me in my teary eyes, say, "I know," and give me a tight hug. A mom who could rejoice over progress—in person, and sit with me in autism regression.
Six years after moving to Maryland, we moved again. God answered my long-awaited prayer for a special-needs mom friend even before moving. Our new church has several special-needs families, including the pastor himself who has a son with autism. His wife, Lisa, and I were instant friends over the phone and have been close since moving. But it took seven years for that prayer to be answered. God is faithful. He put people in my life who loved my son without an intimate understanding of autism through living it themselves. Our friends tried to understand, though they would never really know. I can't say how much it touched my heart that they did what they could.
Still, one can only truly understand if they have experienced it themselves. Christ Himself sympathizes with our weaknesses (Heb. 4:15-16). This is why we draw near to the throne of grace with confidence, and why He is able to comfort our weary, hurting hearts, if we will only turn to Him in our loneliness and distress. He will never leave us; he sticks closer than a brother. He loves at ALL times.
 Jesus, I praise You for understanding the joys and sorrows of raising a child with special-needs. Thank you for the friends you have given me; please strengthen those relationships and grant new friendships according to my needs. I pray that you will build up this community of parents and grant close or even long-distance friendships that will encourage our hearts and motivate us to persevere in this life raising special-needs children. Comfort us in our loneliness, and bring people into our lives who will love us and our children the way You do. Thank you for your own friendship as You have called me "friend" (John 15:15). ~ Amen.
Posts I've written on friendship: