This is episode 33, and we're talking through how to make a decision about the upcoming school year, or how to make any hard decision actually. I'm sharing three fears we face when making a decision and how to overcome those fears. Then I share 5 questions to ask yourself, and I answer those questions myself as I share our decision about school for my boys this fall. I know how stressful it feels right now. I'm feeling it too. But together we can decrease that stress and turn it over to Christ who cares for us.
The first four downloadable printables for our Abiding Caregiver Planner release today for Patreon fans only! Visit patreon.com/SandraPeoples to learn more!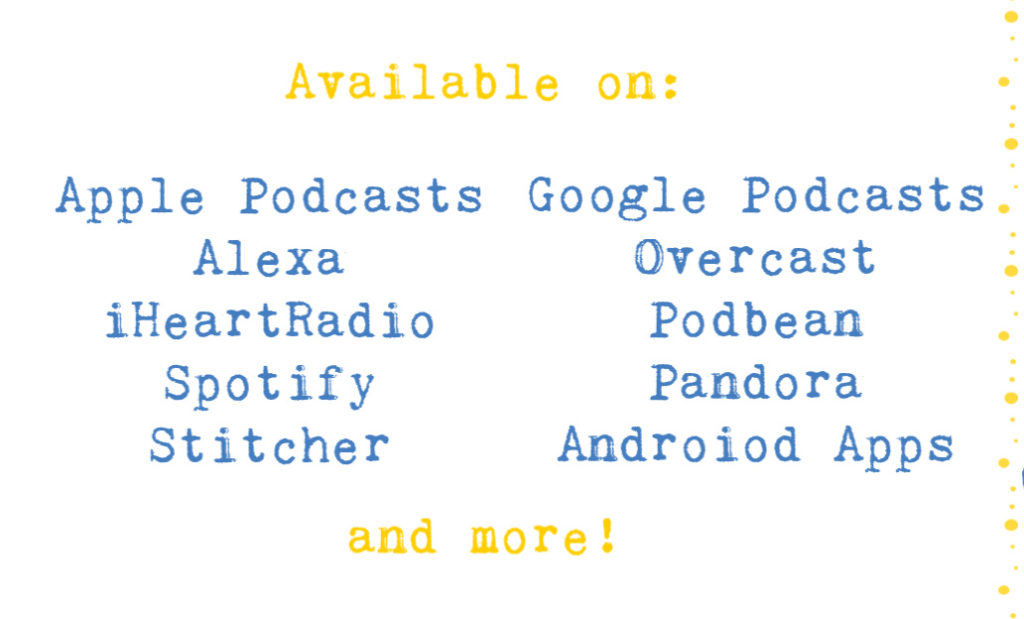 Quick Links:
Transcript:
July 27th How to Make a Decision about the Upcoming School Year (or make any hard decision)
Hi, friends! This is self-care and soul care for the caregiver, and I'm your host, Sandra Peoples. To us, self-care isn't a luxury, it's a necessity. We're abiding caregivers who want to take better care of ourselves so we're able to care for our loved ones who rely on us.
This is episode 33, and we're talking about how to make a decision about the upcoming school year, or how to make any hard decision actually. We'll talk through a framework for making big decisions, and I have a message that will hopefully free you from the pressure you feel. I know how stressful it feels right now. I'm feeling it too. But together we can decrease that stress and turn it over to Christ who cares for us.
Before we jump into the discussion, let me first let you know that at the end of the episode I'll share how you can get the first four downloadable pages for your Abiding Caregiver Planner this month! I've been working with my designer, Teri Lynne Underwood, and I can't wait to share them with you! Listen all the way to the end for the details.
Ok. Now let's jump into the discussion about school plans! Last week we got multiple emails from our district and James's teacher. The school district wants to know what parents want to do and when they want to start. James's teacher wants to know specifically what we hope/plan to do. They are gathering as much info as they can, trying to balance the needs of the kids, parents, teachers, support staff, and follow the guidelines of the state and our city. Actually, our school district stretches into three cities. We can relate to this pressure on a small scale since my husband is a pastor and he's also making decisions about regathering and keeping everyone as safe as possible. As of today, I don't know when they will start or exactly what that will look like, but so far we get to pick if we want our kids to do school in person or online.
I know not all of you have the option to decide. My friends in California and other places are being told it will be online only. And some of you with very vulnerable or medically fragile children don't feel like you have a choice either. Staying home is the best and safest option for your child.
But for many of us, we do have a decision to make, and we need to make it soon. Will we send our children to school, attempt cyber school, or homeschool? To make this decision, or any hard decision that comes up for ourselves and our families, we can work through the information in today's podcast and feel confident moving forward with our plans. First let's talk about the enemies of making decisions, those are the fears that hold us back. Then let's talk about what we should focus on instead. And finally, I'll share 5 questions to ask when making a big decision.
First, the 3 enemies of making decisions.
The fear of not having enough information – sometimes we delay making a decision because we don't think we have enough information. Information is certainly a good thing. It's helpful to have as many questions answered as possible when making a decision. Advice from others is also helpful. But what makes it an enemy is when we never feel like we have enough information, so we keep putting off the decision. This is a temptation for all of us on some level, but some personality types may be more prone to this than others.
The fear of judgment from others – you may be afraid to make a decision because you know or believe you will be judged for whatever decision you make. I am very guilty of this one! Anytime we make a decision and someone else makes a different decision, we think they are judging us. I have a friend who does the opposite of almost everything I do. And I was having trouble connecting with her. I mentioned it to my therapist one day, and she pointed out that I felt like my friend was judging me. Was she? Probably not! I didn't judge her for making decisions so different from my own. Our circumstances are pretty different! But a fear of judgment is real, especially for those of us who are people pleasers or who are sensitive to the reactions of others.
The fear of failure – if you grew up in a home where it never seemed like what you did was good enough to earn love or attention, you may fear failure. This is a big factor when making decisions if you see the decisions as having a right or wrong result, being a pass or fail situation. The good news is most decisions aren't pass or fail. There's lots of gray area. There's also lots of grace.
Let's focus now on the solutions to these fears, the grace we can find.
First, remember that most decisions aren't permanent. There are few that are, of course. We celebrated our 17th anniversary yesterday, and on the day we got married, right before the doors to the chapel opened and I walked down the aisle to Lee, my dad said, "Are you sure about this?" He was willing to turn and walk out the back door with me if that's what I decided to do. Marriage is a pretty permanent decision. Having children is permanent. But few other things are. You can take a job and change your mind. You can move to a new place and move again. You can start reading a book and put it down after 50 pages. You can even start the school year making one decision and then decide another plan would be better for your family. I know that's trickier to do in some states and districts than others, but it can be done. That's been our plan for our older, typical son's school plan since he was 3 and started preschool. We make the best decision for him at the start of each new year. And that has changed multiple times. If you struggle with a fear of not having enough info at this time or a fear of failure, remind yourself that the decision you're making isn't permanent. Give yourself grace to pivot in the future if necessary.
Second, know you are only responsible for yourself and your own reactions. This is a tough one, but we have opportunities to live it out each day. We can't let possible judgment from others be such a big influence on our decision making. Why? Because we can't control them. And ultimately, we don't answer to them. There have been many times I've forgotten this truth. And it's effected my family. We very rarely eat out because years ago at a Bojangles in South Carolina a couple moved away from us because James was making lots of noise while we waited for our food. So I made the decision that we wouldn't eat out. But I have found that I can't control other's reactions to us, not when we eat out, not at church, not at the grocery store, not anywhere. When I'm faced with making a decision, big or small, I remind myself that I can't control other people's reactions to us. We have to live out our lives focused only on what we can control, and not the fear of judgment from others.
Finally, believe that you aren't held to a standard of perfection but focus instead on being faithful. If you've read my book or followed me online for a while, you know that we moved in Texas five years ago to plant a new church. Our hope was for this church to be special-needs welcoming from day 1. We spent two years focused on that goal, while Lee and I both worked multiple jobs and built relationships with families who were interested in our vision for a church. At the end of those two years, the associations that were funding the church plant said we didn't meet the goals they had for us. We could keep trying to make it work (without their financial support), or we could close the church plant and try to be open for what God might do next. Did our church plant fail? Some might consider it a failure. But I don't think God did. He wasn't judging us by our success. He had just asked us to be faithful—faithful to His calling on our family to take steps to get to the place He had planned for us all along. As you work through making a tough decision, don't be afraid of failure. Instead, focus on faithfulness. And believe that's ultimately what God is asking from you as well.
Those are the 3 fears that hold us back from making big decisions and what we should focus on instead as we work through those decisions. So let's talk now about 5 questions you can ask yourself when faced with a decision, whether that's what you're going to do about school this year or something else that's heavy on your mind.
Questions to ask when making a decision:
What is my fear? Can you identify what's holding you back from making a decision?
How can I overcome that fear? How can you meet that fear with the truths we talked about?
What steps can I take now toward making the decision? Do you need more information?
Whose counsel do I need? Is this a decision you need to make with your spouse? Or need someone else's advice on?
What is the best option for me right now? When you ask this question, you remind yourself that you're making this decision for yourself or your family member, not worrying about judgment from others. And you're reminding yourself this is a "right now" decision, not a "forever more" decision.
These five questions will help guide you through big decisions. Want to walk through them with me as I apply it to our own decision about school this year? Ok. Here we go.
First, what is my fear when it comes to making this decision? I don't fear James or David getting sick, because they don't have weak immune systems, and neither is medically fragile. I do fear judgment from others, even judgment from people online when I share our decision. How can I overcome this fear? I remind myself that I am responsible to make this decision for our family, not anyone else. What they decide for themselves takes lots of things into consideration, just like I am doing for us. Third, do I need more information? Well, we have been paying pretty close attention to the numbers as Lee plans for church to fully open up again. So I have all the information I need. Next, do I need advice from anyone else? Not really for this decision. Lee and I need to agree on the plan, but he's left a lot of it up to me. And finally, what is the best option for us right now. The best option is for James to attend school in person and for David to be homeschooled.
James has been attending therapy since March and has attended summer school, and both have gone smoothly. I trust his teacher and her support staff to do their best to keep the kids safe. And if James does get sick, I have a plan in place to care for him as we isolate ourselves. Our plan for David is different because he will actually be skipping 8th grade. When he transitioned from homeschooling to public school back in 5th grade, we held him back because of his dyslexia. But because he has a fall birthday, he is much older than his peers. That may really be an issue when he turns 18 at the beginning of his junior year. So our plan is to homeschool this year and advance him a grade.
Do I still have fear? Yes. But I remind myself of 1 John 4:18, "There is no fear in love, but perfect love casts out fear." Who exhibits perfect love? God. I can move past my fear because I trust in His love for me and my family. That doesn't mean everything will go perfectly. It doesn't mean we won't get sick. God loves plenty of people who have gotten sick. But it does mean no matter what happens, no matter what decision I make, it won't separate me from God's love. It won't snatch me out of His hand. It won't divert me from His will. My decisions aren't powerful enough for that. Praise God!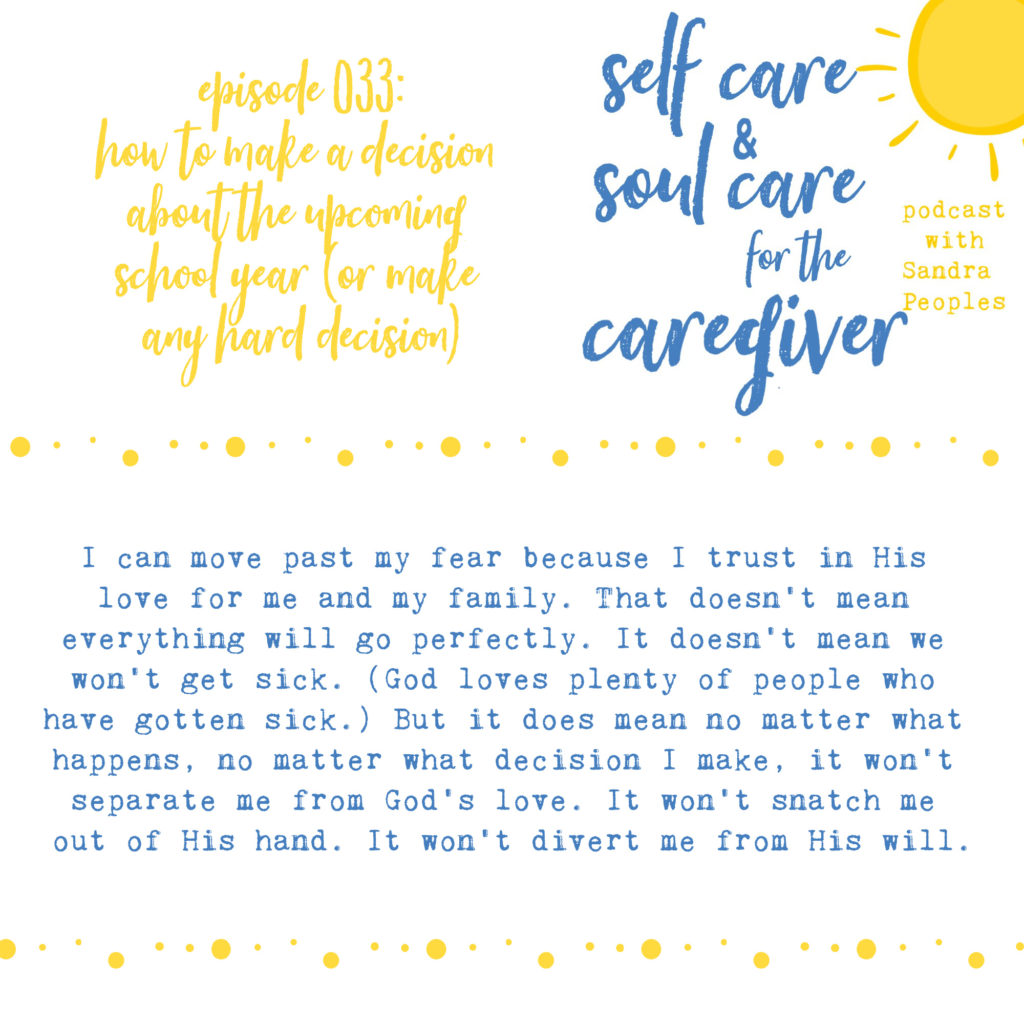 Let's pray to Him now and ask for His wisdom over our decision making:
God, You are all knowing and all present—omniscient and omnipresent. We are limited in our knowledge and by our location. But these limitations point us to You and how much we need You! We need you now as we make decisions for our families. That decision may be about school. It may be about when to return to church in person. It may be to find another job or move to a new location. No matter what it is, we ask for Your wisdom. Drive away the fear we have and replace it with trust in You and Your perfect love. We are thankful that You don't expect perfection in every decision, but You hope for faithfulness. Help us to make the best decision we can with the information we have. In Jesus's name, amen. 
Friends, I hope that was helpful! It certainly was for me to work through with you. Let me take a minute now to tell you more about the Abiding Caregiver Planner, because I don't want you to miss the opportunity to get the first four downloads today! Patreon fans only will get access to these first printable pages each month this year, starting this week! If you aren't familiar with Patreon, it's a way to subscribe to exclusive content from your favorite creators as you financially support them. Your financial support, starting at just $5 a month, will unlock these pages for you to use. We're starting off with a month at a glance page, a weekly schedule, a menu plan, and a page to help you set monthly goals. All of these will be available for you to use in August! And you'll get four new downloadable printables each month for the rest of the year. If you're interested, sign up right away at patreon.com/SandraPeoples and you can download them today. Thank you for considering supporting me in this way!
And of course, thank you again for spending time with me today! I'll be praying for you this week, as you make decisions for yourself and your family. Remember, apart from Christ we can do nothing, but with Him, we have everything we need as we live out our calling as abiding caregivers.