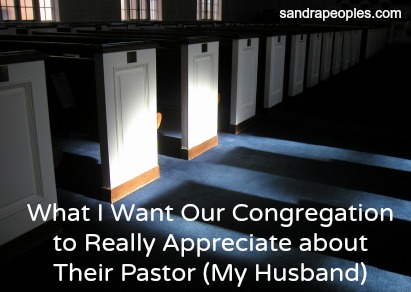 Lee has had conversations with different people in the last week, talking about their former pastors at our church and other churches. In two of the conversations, about two different former pastors, both people told Lee the pastors couldn't preach well, but they sure did love their people well.
Because of those conversations, Lee and I talked about what he would want to be remembered as being good at doing. Preaching? Evangelizing? Serving? Praying? Giving? Loving? Leading? So many qualities go into being a good pastor.
If I could stand up in the pulpit as we end Pastor Appreciation Month and tell our people what I hope they appreciate about their pastor (my husband), I would say this:
I hope you appreciate how he loves you. He answers the phone when you call. He writes you letters and emails. He sends encouraging texts. He shows up at the hospital at any time of day or night. He marries you. He buries you. He cries with you and laughs with you. He hurts with you and heals with you. He loves you.
1 John 4:11-12 11 "Beloved, if God so loved us, we also ought to love one another. No one has ever seen God; if we love one another, God abides in us and his love is perfected in us."
I hope you appreciate how he prays for you. His love for you is seen in dozens of ways, but his prayers for you go straight to the throne. He prays for your unity. He prays for your growth. He prays for your families. He prays you through trials. He prays you through blessings.
Colossians 1:9-11 "And so, from the day we heard, we have not ceased to pray for you, asking that you may be filled with the knowledge of his will in all spiritual wisdom and understanding,  so as to walk in a manner worthy of the Lord, fully pleasing to him, bearing fruit in every good work and increasing in the knowledge of God. May you be strengthened with all power, according to his glorious might, for all endurance and patience with joy …"
I hope you appreciate how he studies for you. He wants to communicate the gospel message as clearly and effectively as possible. He wants to preach each Sunday so that the Holy Spirit uses his words to affect each and every person in attendance. He wants to be found faithful to what he has been called to do. He studies hard for his classes, reading and discussing with the other doctorate students how to serve their people and spread the gospel.
2 Timothy 2:15 "Do your best to present yourself to God as one approved, a worker who has no need to be ashamed, rightly handling the word of truth."
I'm thankful for a church who I believe truly does appreciate their pastor. I hope we can all show and tell our pastors exactly how much we appreciate them this month.
Thanks for all you do for me, our boys, and our church family, Lee!