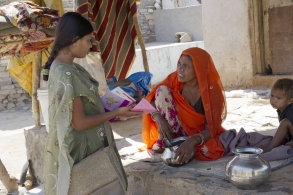 According to Gospel for Asia, women in Asia are the least likely to hear the gospel. Females are the most likely to be aborted, be illiterate, and be sold into slavery. Gospel for Asia believes the best way to reach these women is through women missionaries.
"In Indian culture, it is not proper for a man to visit a woman when her husband is not there. The women, however, are welcome in most homes. The women's mobile team has many opportunities to share the gospel that male missionaries simply don't have." -from GFA's website
Women missionaries through GFA are also teaching women to read and write. They are meeting physical and spiritual needs. But they need our support to continue their ministry! Please pray for women missionaries in Asia and around the world today. Consider sponsoring a woman missionary through Gospel for Asia for just $30 a  month.