Last weekend I met someone new and she asked how many kids I have. For the first time in over four years, I had to say "two boys." Not two boys and we are adopting. Not three boys. Just two.
If we're Facebook friends or connected on Instagram, you may have seen the update we posted along with the picture above. "We wanted to share the heartbreaking news that Joel is no longer with us. We were not told before we met him that he had autism. After months of testing, we believe his autism is institutional, which means he learned to imitate autistic-like behaviors. The best treatment is for him not to be around other children with autism so he stops imitating. That is impossible in our family. We worked with Second Chance Adoption agency and found him a new home with amazing parents and five brothers! We ask for your grace and prayers as we mourn."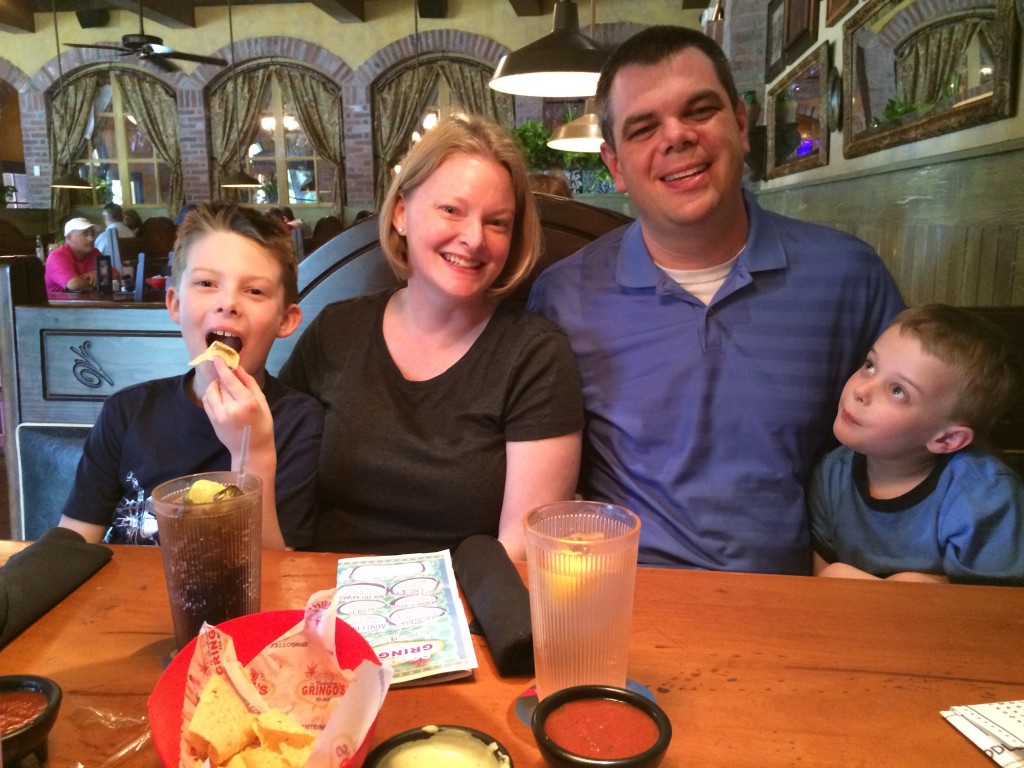 I posted that the Monday after Easter, right before we hopped on a plane to visit my family in Texas. Our church generously gave Lee a two-week sabbatical so we could grieve and heal. Our two week time together is over today. The grief and healing haven't ended of course, but we are relying on each other and giving each other grace. Our grief therapist says the grief cycle is cyclical instead of linear, and we will cycle back through again and again in the coming months.
No adoption goes exactly as planned. Our journey certainly didn't go as we had hoped, but even through it all, it was still worth it. Our younger son James was diagnosed with autism just a few months after we had started the adoption process back in 2010. "Will you still adopt?" friends and family members asked us. "Of course!" we answered with confidence. Why wouldn't we? The adoption process took years, but we had lots to keep us busy with James's therapy and doctors appointments. We had a strong team who helped him make progress each week. James does have level three autism, which for him means he has very limited verbal ability and low social skills. Even though our older son David has always been an amazing big brother to James, he prayed each night for the child we were adopting and planned to name Joel. "God, please bring me a brother who wants to play with me."
In September of 2013 we accepted the referral for Joel, a little boy living in China who was blind in one eye and had developmental delays. The delays did not concern us. Any child coming from an institutional setting would be expected to have delays.
In September of 2014 we travelled to China to bring him home. Within minutes of meeting him we knew he didn't just have delays. With our experience of parenting a child with autism, we could see the signs. We believed he had autism. We didn't know what to do. We weren't approved for another child with autism. We called our agency and they promised to help. "Just bring him home," they said. So we did.
We had James's team of therapists at our house the week after coming home. They agreed with our assessment, that it did seem to be autism. We did lots of research and figured out that Joel wasn't the only child adopted from another country who seemed to have autism but didn't have the diagnosis. They had what is known as "institutional autism," which means the child isn't actually autistic, but learned to imitate autistic-like behaviors. These children were showing drastic improvement after being with their new families in a short time. But we didn't see this with Joel. In our family he wasn't away from other children with autism. He would never stop imitating his new brother.
We made the incredibly hard decision to interrupt Joel's adoption and find him a new family who would be able to meet his needs better than we could. We worked with Second Chance Adoption Agency, who specializes in cases like ours. In April, Joel transitioned to his new family.
There are many more details we will keep private, but here's what we want you to know. It was worth it. Over four years in the adoption process. $65,000 spent by the end. Six months of therapists and evaluations for Joel. A school system and an adoption agency who didn't believe us and made us spend more time and money convincing them than was necessary.
The bitterness and anger I continue to fight against each day. The depression Lee battles. The doubt in God that David battles (Why didn't God answer the one prayer he prayed for four years? For a brother who could play with him?). The anxiety James battles.
All worth it because a little boy who didn't have a family now has two who love him deeply. We did what we had to do to put our desire for a whole family—for three boys, for a successful adoption—all aside for what was best for him. And what was best for him was not our family. Each week I get updates from his new mom. It breaks our hearts every time, but I know he's happy and healing. He's already making progress in areas we didn't see in his months with us.
We are glad God used us to get him into a country where he will have every opportunity to succeed. We are glad we had experience with James and saw the signs of autism right away (within minutes of meeting him). We are glad we brought him home. We are glad we had the months with him that we had. We feel we were faithful to obey God's command in the book of James to care for the orphans.
It was worth it all.