If you listened to podcast episode 10 on setting a feeling based goal for our marriages, you heard me talk about my goal—joy. I wanted to have more fun with Lee! So when our church started talking about our annual Rodeo Sunday and the church chili cook off, I thought entering would be a lot of fun. Lee won two years ago and still brags about it, so a little healthy competition and trash talking sounded like fun! (We even did a couple videos about our match up, you can watch them here.)
I checked out a couple Texas-themed cookbooks from the library, but ultimately decided to make up my own recipe. I wasn't sure how well it would turn out, but I put together flavors I like and hoped the judges would like too!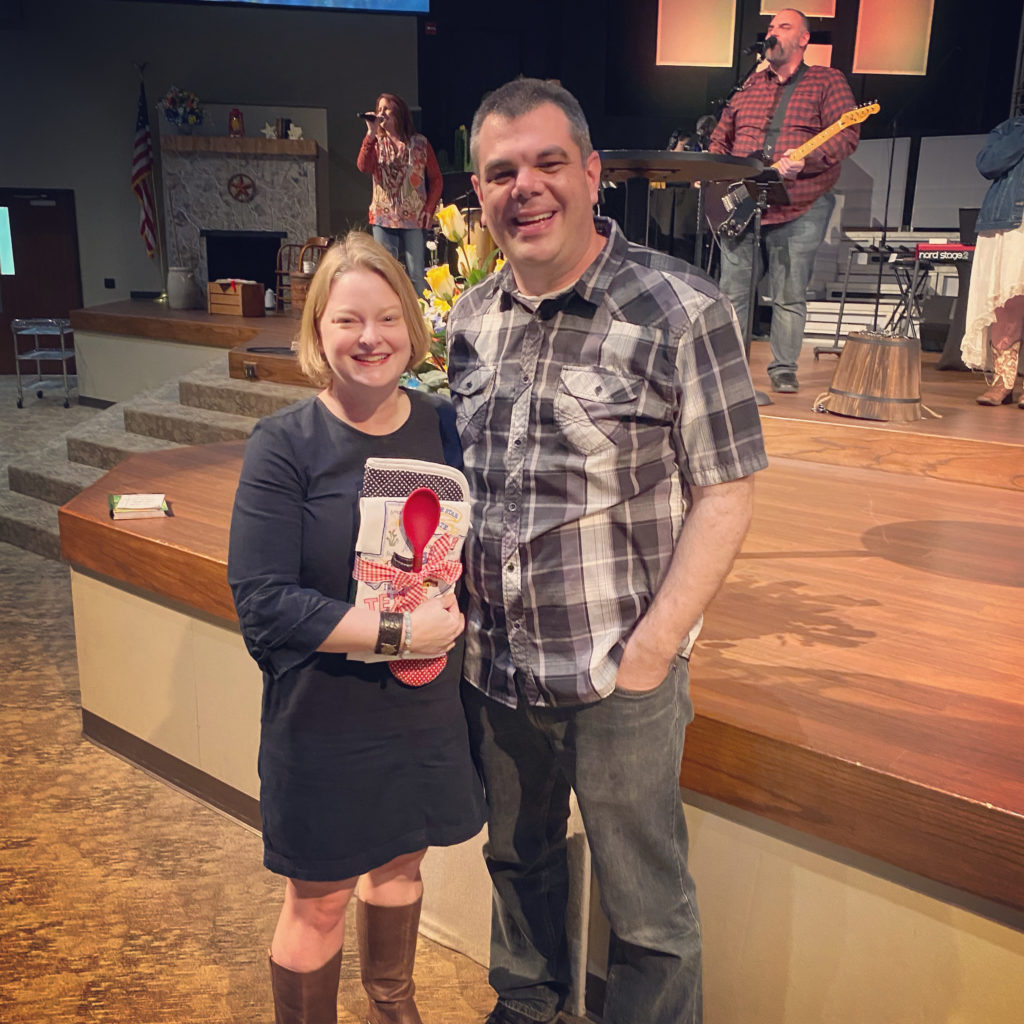 On the morning of the Rodeo Sunday service and the chili cook off, James was sick. I stayed home with him until my mom came over so I could be there when they announced the winners at the end of the service. I'm glad I did because I came in second! What a fun surprise! Lee was a gracious loser, even though he blamed his loss on the fact he went with a white chicken chili recipe he thinks the judges just weren't in the mood for.
On this week's podcast (episode 17), I talked about gifts to give your future self as we're all dealing with the coronavirus. Doubling a recipe and freezing part of it for the future is a gift to your future self, and chili is one of my favorite meals to freeze, so I thought I'd share the recipe with you! When I started typing it out I remembered I'm no food blogger. I didn't write down the recipe when I was making it, so I'm not sure all the measurements are exact, so taste as you go and add what sounds good to you!
Chipotle Lime Chili with Lime Cremá
Brown 2 pounds of browned ground beef with half a diced onion and 1-2 Tbs minced garlic
Combine with:
large can crushed tomatoes
2 cans of diced tomatoes
1 can light kidney beans, drained (any similar bean would work)
in a large crock pot and stir
Flavor bomb: in a small food processor, blend together half a can of chipotle peppers in adobe sauce and the juice of 2 limes. If you like spicy chili, use the whole can. Add to chili mixture.
Seasoning: add 4 Tbs of chili lime seasoning from Trader Joes. If you don't have the seasoning, mix 1 Tbs kosher salt, 1 Tbs chili powder, 1 Tsp smoked paprika and add to the chili, along with the zest of one lime. (reserve a small amount of the seasoning to sprinkle on the lime creamá)
Stir it all together and cook for 2 hours on high or 4-6 hours on low.
I served mine with lime creamá, lime wedges, and hint of lime tortilla chips. (I'm not sure if the judges tried it this way.)
For the lime cremá: mix one cup of sour cream with the juice of one lime. Top with the zest from half the lime and a sprinkle of the seasoning mix
Since James woke up sick the morning of the competition, I didn't actually get a chance to taste my chili before Lee took it to the church for judging, so I've got it on my menu plan this week! (I'll come back and make adjustments and add notes if I need to!)