If you rely on extra cups of coffee, under-eye concealer, and containers of take-out to get through the day, it's time for better self-care.
"I am the vine; you are the branches. If you remain in me and I in you, you will bear much fruit; apart from me you can do nothing" (John 15:5).
Abide: Self-Care for the Busy Mom is purposeful and practical. It doesn't add more to your to-do list—it transforms your to-do list for better fulfillment and efficiency.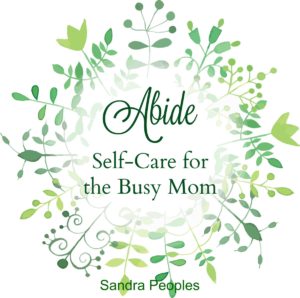 Sandra was juggling meeting the needs of her eight-year-old son with autism, homeschooling her ten-year-old son with dyslexia, opening her home every week for Bible study as she and her husband planted a new church, and working as a writer and editor. Finding herself at a point of exhaustion, she devoted a month to better self-care. Sandra took time to edit her status quo and then execute a better narrative: to find out what made her feel her best and then put those habits into practice.
Abide doesn't make you feel guilty for all you should be doing; it brings freedom from struggles that have been weighing you down and holding you back. You can live unhindered, uninhibited, and uncomplicated by knowing yourself better and living from the strength the vine provides.
[ctt template="7″ link="y0B96″ via="no" ]Abide isn't about self-sufficiency, self-fulfillment, or self-righteousness—it's about dependence on Him.[/ctt]
You weren't created to live a life of exhaustion, excuses, or extreme mood swings. You were created to abide in Christ.