This is episode 13 and we're talking about cleaning out your closet so what's left really works for you.
Your overflowing closet isn't giving you more options. It's actually limiting you. Let's transition to a minimalist wardrobe for maximum efficiency.
I'm also sharing the big wardrobe decision I've made to decrease decision fatigue and what I've created for you to make Monday mornings even easier. Be sure to listen/read to the end!
Listen to Self Care and Soul Care for the Caregiver on iTunes or the link at the end of the show notes.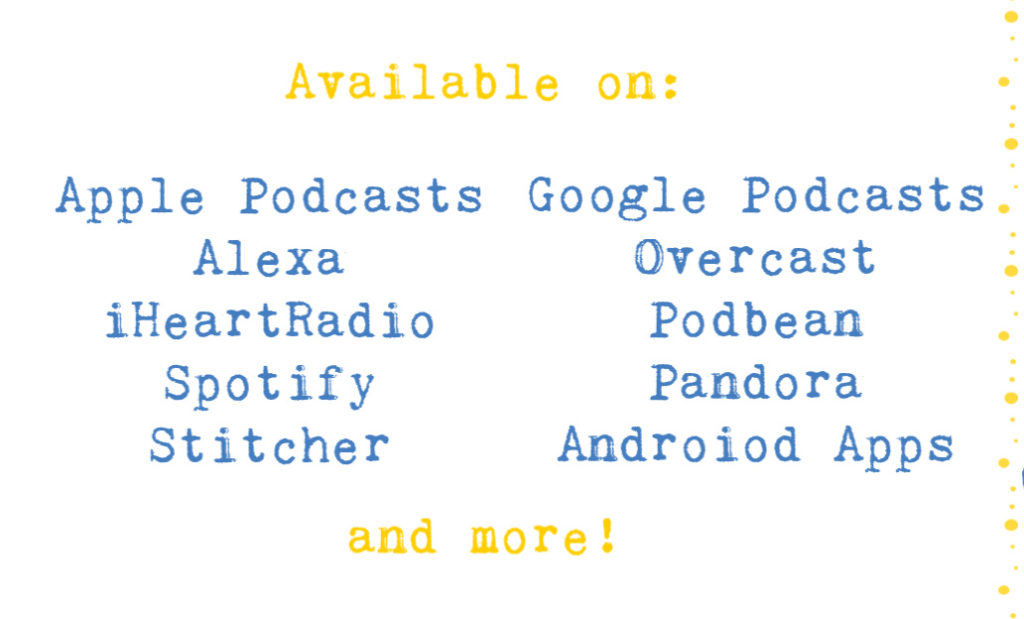 Quick links from the episode:
In this episode you also heard about my new podcast shirt that says, "This is my Monday Uniform!" We're going to make ordering really easy. Just email me at sandra@sandrapeoples.com and I'll reply with an invoice! You can get them for $18 + $5 shipping and packaging. We have sizes med-XXL (same price for all sizes). I know you're going to love it as much as I do!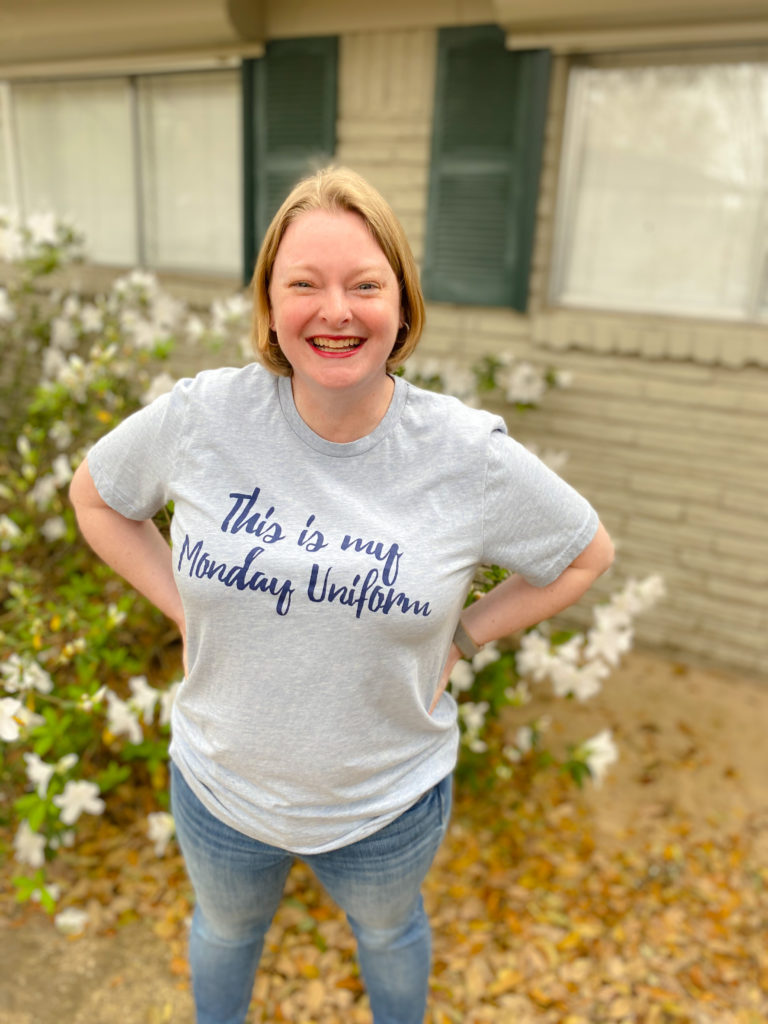 Transcript:
This is self care and soul care for the caregiver, and I'm your host—Sandra Peoples. To us, self care isn't a luxury, it's a necessity. We want to take better care of ourselves so we're able to care for our loved ones who rely on us.
This is episode 13 and we're talking about cleaning out your closet so what's left really works for you. Your overflowing closet isn't giving you more options. It's actually limiting you. Let's transition to a minimalist wardrobe for maximum efficiency. I'll also share the big wardrobe decision I've made to decrease decision fatigue and what I've created for you to make Monday mornings even easier.
Let's jump right into our discussion on the minimalist wardrobe and the Monday uniform.
Have you ever noticed Mark Zuckerburg, the head of Facebook, wears the same outfit in most pictures of him? So did Steve Jobs. Like other busy people in creative fields, they realized getting dressed each day was taking more mental power than they wanted to exert. So they adopted a uniform. They wear the same basic outfit each day. Mark even shares pictures of his closet full of nothing but black shirts! That can feel like an extreme solution, but we can't deny the problem is real.
A couple years ago, getting dressed each morning was getting stressful for me, especially on Sundays. By the time we left for church, the reject pile covered my bed. So much of what I tried on didn't fit right or feel right. Part of the reason for that was that my body was changing, and I wasn't happy about the changes. I was holding on to sizes and styles that weren't flattering for my 40ish year old body. When I got dressed I experienced negative self-talk. "These jeans fit last season. How much weight have I put on?" Or "Can't even get this shirt buttoned. It looks awful. I look awful." Friends, there are times to talk about how our bodies and our health, and for some of us decisions to be made about moving more and eating less sugar, but every morning when I get dressed is not the time to punish myself. My weight and body size aren't as indicative of my health as I used to believe it was. My body is strong and able to do what I need it to do each day. Therefore I need to be kind to it and myself when I get dressed each morning.
To help in this process, I applied the Marie Kondo method to my clothes. She says to get rid of anything that doesn't spark joy. I got rid of everything I didn't love to wear. If I never liked the style, if I had a hard time matching it with anything else in my closet, and if it didn't fit anymore, it went in the giveaway pile. I even donated most of my t-shirts, deciding only to keep the ones I really loved. Suddenly there was more room in my closet, and I loved wearing each item I owned.
After I cleaned out the closet, I needed to decide how to make better decisions in the future about what I bought. First I had to think about my roles in this season and this location. When we lived in Pennsylvania, the weather was a whole lot different than it is in Houston! I don't need my heavy coats, sweaters, or knee-high boots. Our first year here I was especially sad not to need any of my bright-colored spring sweaters! Now, I work from home as a writer, so I don't go to an office each day like my husband does. Most days I wear comfy pants or shorts, a t-shirt, and flip flops (yep, even in the winter!). And even though I like wearing bracelets, I don't like typing with them on, so I'm pretty minimalistic when it comes to accessories too! But I do like to have clothes that fit well and look flattering when I go to church on Sundays and when I speak at events. For those pieces, I looked to people who wear clothes that are also my style.
There are tons of fashion bloggers on Instagram who share what they wear, and many also share deals and sales. My friend Stephanie McKeever introduced me to the account Sheaffer Told Me To when Stephanie and I were messaging about what I should wear to a speaking event. Sheaffer posted about a brand of jeans and pants that I now love, Wit and Wisdom Clothing. I also follow Annie Downs on Instagram and she shops at HeyleeB, a boutique in Tennessee that features pictures of women close to my size wearing what they have in their store. I've ordered from them a few times because what they carry is so cute and comfortable.
I tend to like classic pieces more than trendy ones. One of my favorite stores is Talbots. It's my mom's favorite store and was my grandma's favorite store, and I grew up shopping with them. Other favorites include the Loft outlet near us, Old Navy, and Target. Once or twice a year I also use Stitch Fix, which is a company that shops for you. You fill out a style profile. They pick out five items to send you to try on, and you ship back the ones you don't way, paying for the items you keep (if you ship them all back, you're charged a processing fee). I'll share links in the show notes to everything I've mentioned so you can check them out. Once you clean out what doesn't work for you anymore, you may be ready to focus on what truly fits your body and your style.
I have one more, big piece of advice and a surprise to share. We talked in episode 6 about decision fatigue. That's when you reach your breaking point because you've had to make too many decisions, and caregivers are especially overwhelmed by decision fatigue. One way I eliminate it on Mondays is to have a Monday uniform—I wear the same shirt every Monday so I don't have to decide what to wear to start my week. I used to wear a shirt that said "coffee mascara hustle" because that was the vibe I was going for on Mondays (even though I don't actually drink coffee or wear mascara). Over the summer I switched it up to my "chip dip repeat" shirt, because that was 100% the vibe I was going for on summer time Mondays. (shirts mentioned are from Milk and Honey Tees, although the are both discontinued.)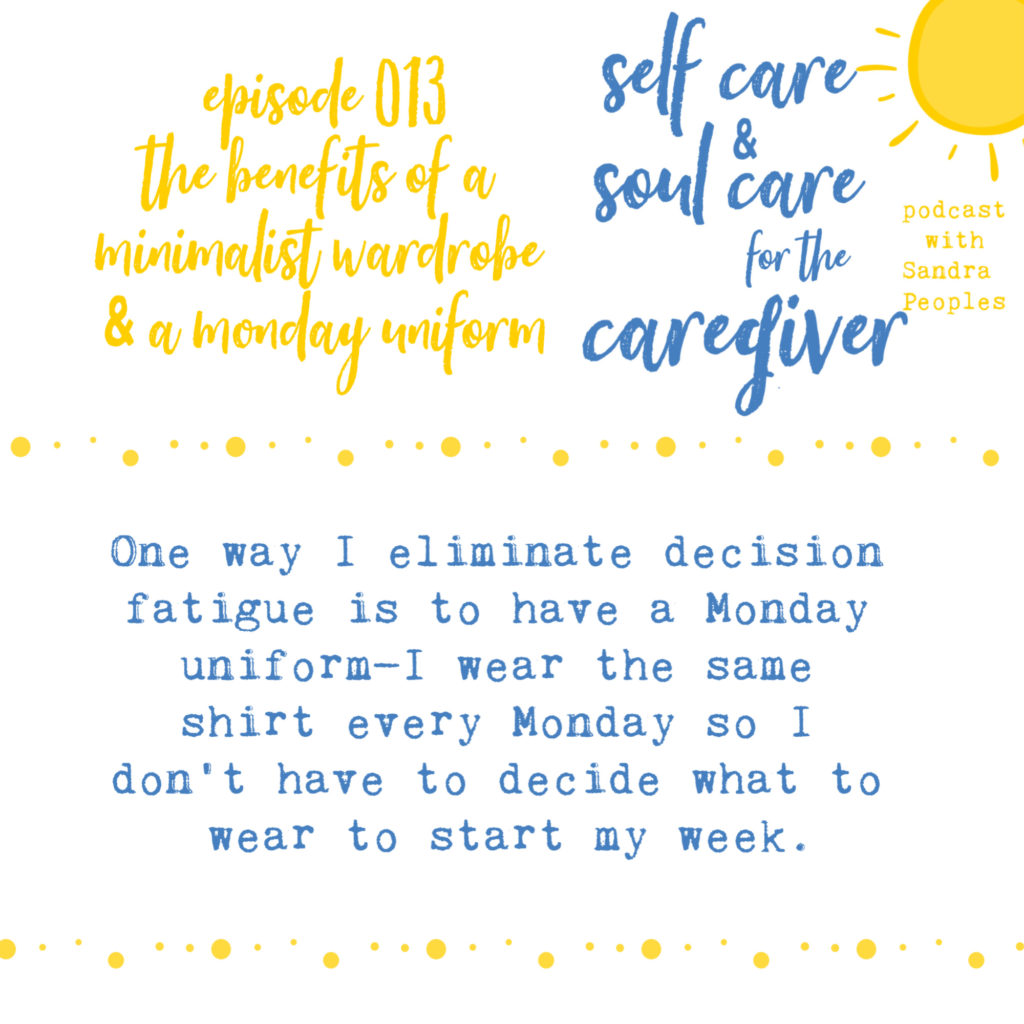 But now I have a new shirt to wear—one that says "This is my Monday uniform" on the front! It's a blueish-gray with navy letters, and the best part—it has my podcast info on the back in very small print because it's a shirt I've designed for us! You can decrease decision fatigue and remind yourself to listen to the podcast each Monday with your own "Monday Uniform" shirt! I have sizes med-3XL available and you can find out how to order one on my website in the show notes for this episode!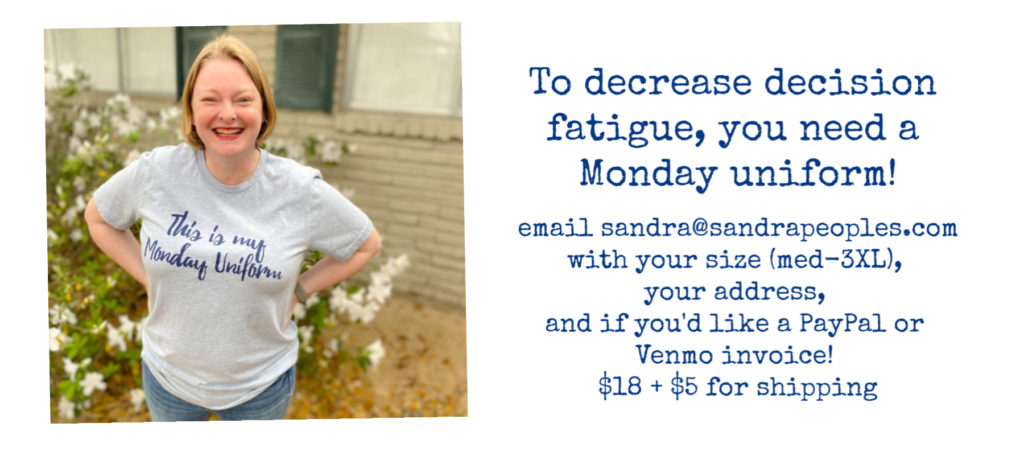 (Update: we are sold out of 3XL!)
We end each episode with a prayer, and it may feel a little funny to add a spiritual element to a very practical discussion on cleaning out the closet, focusing on clothes that you really like and that fit well, and adopting a Monday uniform. But I truly believe this is area where we can be better stewards not only of what clothing we spend money on but how much time we spend deciding what to wear each day. Minimizing the options doesn't take the fun away from getting dressed each day, it takes the stress away. And that is certainly something God cares about in your life.
So let's pray to Him, "God, thank you for all you provide—the clothes I wear, the food I eat, and the home I live in. I want to be a good steward of all you bless me with. This spring, as I look around my home and think about areas that could be better organized to decrease stress for myself and my family, give me wisdom and energy to make positive changes. Today I want to evaluate the clothes in my closet. I want to feel good about the body I have because I'm made in your image and my body helps me accomplish what you have called me to accomplish. Help me make decisions about what to keep and what to pass on as a way to bless others. Help me decrease decision fatigue if necessary, so I have energy to make the most important decisions you call me to. Thank you for this perspective change on how I start off my days with what I wear and how I talk to myself. Your voice is gentle and kind, not punishing or shaming. Help me to focus on your voice above all others. In Jesus's name, amen."
Thank you for listening to this week's episode, friends. I know conversations about our bodies and our clothes can be hard. I'm proud of you for taking steps to be kinder to yourself this week, even when standing in your closet deciding what to wear. If this episode was helpful or encouraging to you, please take a minute to leave a 5 star rating! You can also tell friends about it who may also need a pep talk as they get ready in the mornings!
I have some exciting episodes coming in the next few weeks! We're going to talk to my friend Stephanie, who I mentioned earlier in the episode and in last week's episode about extra stressful seasons. She's going to share what self care and soul care looks like when you're caring for someone in the hospital for a long stay. You don't want to miss the wisdom she will share, so subscribe now!
And don't forget to join our weekly discussion on the Self-Care for the Special-Needs Mom Facebook group! Over 1,500 moms like you hang out there each week for encouragement and prayer! We'd love to have you join us! Find the link in the show notes at sandrapeoples.com/thepodcast
Thanks again for listening! I'll meet you back here next week for episode 14!