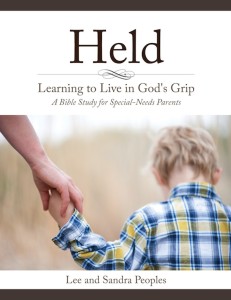 Held: Learning to Live in God's Grip
Lee and Sandra Peoples
Can Be Purchased:
Resources:
In May of 2017, we led an online study through Held for 450+ participants! The videos, images, and questions we used are linked below for you to use with your small group (free of charge).
If you're reading Held with a small group, we'd love to know so we can pray for your group! Email sandra@sandrapeoples. com (take out the space) and tell us where you're located! Sometimes we can even set up a Skype or FaceTime call with your group. Let us know if you'd be interested!
FAQs After Reading Held:
Where are you and your family now? We moved from Pennsylvania to outside of Houston in 2015. Lee pastors our church. James is in 8th grade and doing well. I work for the Southern Baptist of Texas Convention as their consultant for special needs ministry.
What is the special-needs ministry like at your church? We have a growing ministry that serves my family and others each week. I serve as the director.
What writing projects are you working on right now? Unexpected Blessings: The Joys and Possibilities of Life in a Special-Needs Family released from Bethany House Publishers in Nov. of 2018. It includes discussion questions at the end of each chapter and could be used with a small group.
How can we connect with you? I have three newsletters that go out monthly based on what my readers are most interested in. You can sign up for any of the following: